Understand and Build Your Own Access Database
Classroom Course
Online Learning Access 2016
Customised Group Training
Microsoft Access training course in Perth (2 days | version:  2013 & 2016) is designed to provide skills and knowledge which will allow participants to be able to create database systems, enter, edit and delete data in database files, produce information in forms and reports and generate queries on the data.  The participant also learns how to ensure that data is entered correctly, how to create more sophisticated and complex queries, and is introduced to some basic automation techniques involving macros.
Enrol Now 
Learning Outcomes for Microsoft Access Database Courses
At the completion of this Microsoft Access Training Perth, participants will be able to:
understand how Microsoft Access is used and how to navigate around it
design a database with lookup tables
create a database structure using Microsoft Access
modify the structure of an existing table
add records to a new table
add transactional records to a lookup database
work with the records in a database table
sort and filter records in a table
create simple and effective queries
create meaningful reports from tables
create and use a variety of forms
use various data validation features in Microsoft Access to protect data
format the data in a table
perform more advanced queries using a variety of querying techniques
create and use parameter queries
create calculated queries
modify and adapt an existing form according to specific needs
create and use macros in Microsoft Access
work with a number of macro techniques
create macros on forms
The Microsoft Access training course in Perth utilises learning materials that are packed full of high quality content, step-by-step instructions with visuals and plenty of practice exercises offering exceptional value to the participant.
Detailed Course Outline & Course Files for the Microsoft Access Training Course in Perth
Course Outline – Microsoft Access Training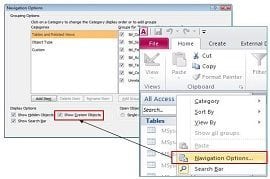 Suitable For
The Microsoft Access tutorial training course in Perth is designed for users who need to know how to create databases and to manipulate data to provide viable information. The Microsoft Access training course in Perth is also designed for users who have an understanding of how tables are created, records are entered, modified and deleted, and how simple queries, reports and forms are created.
Prerequisites for the Microsoft Access Course
The Microsoft Access training course in Perth assumes little or no knowledge of databases or Microsoft Access.  It would be beneficial to have a general understanding of personal computers and the Windows operating system environment.
Training Manual & Comprehensive Resources Included for MS Access Course
Each class attendee to our Microsoft Access Course is given the following;
Microsoft Access Introductory & Intermediate Manual 2016
Handy Tips guide
Handy Tips for Access 2016 (Summarising key tips and trick for using Microsoft Access 2016)
"Quick Reference" Guide for Access 2016
Access 2016 Sample Chapter Files from the course
Access 2016 Exercise Files
Access 2016 Exercise File Solutions
Multiple Choice Test for each chapter
* Note – If you are currently using an older version of Microsoft Access we also have Microsoft Access 2010 which you can use in class. The trainer will point out any differences as we work through the tasks. We have found that the differences between Access 2010 and Access 2016 are minimal and does not impact on the training.
Microsoft Access 2016 Online Training is a convenient, effective and affordable way to learn. You can complete the Microsoft Access Online Training at your own pace and your own leisure. Whether you're a beginner, an experienced user, or somewhere in between, you'll find valuable knowledge that can be accessed again and again at a time and pace that suits you.
Enrol Now 
Sample Lessons from Microsoft Access 2016 Online Learning
Learning Outcomes
At the completion of this Microsoft Excel Introductory Online Training, participants will have covered:
Chapter 1-1 Start Screen and New Blank Database Page
Chapter 1-2 Understanding The Backstage View Page
Chapter 1-3 Understanding The Access 2016 Screen and Using The Ribbon Page
Chapter 1-4 Working With The Navigation Pane Adding Command To The QAT Page
Chapter 1-5 Touch Mode Working With A Table And Working With Other Database Objects Page
Chapter 2-1 Understanding How Access Stores Data and Data Types Page
Chapter 2-2 Scoping Your New Database and Identifying Table Problems Page
Chapter 2-3 Refining The Table Structures and Finalising The Design Page
Chapter 3-1 Creating A New Database File Lookup Table and Primary Key Page
Chapter 3-2 Creating The Transaction Table Page
Chapter 3-3 Connecting To A Lookup Table Page
Chapter 4-1 Opening An Exisiting Table and Adding Fields Page
Chapter 4-2 Changing Field Size Names Decimal Places and Date Formats Page
Chapter 4-3 Indexing Fields and Deleting Fields Copying And Deleting A Table Page
Chapter 5-1 Typing Records In A Table Page
Chapter 5-2 Adding Records Using A Form Saving A Form Layout and Adding Records to An Existing Form – Cop Page
Chapter 5-3 Importing From Microsoft Excel
Chapter 6-1 Typing and Adding Transactional Records and Subdata Sheets Page
Chapter 6-2 Typing Transactional Records and Adding Transactional Records – Copy Page
Chapter 7-1 Table Navigation and Navigating To Specific Records Page
Chapter 7-2 Editing Deleting Undoing Searching For Records Page
Chapter 7-3 Searching Finding Replacing Page
Chapter 7-4 Printing and Compacting a Table Page
Chapter 8-1 Simple Sorting and Sorting On Several Fields Page
Chapter 8-2 Working With Filters and Filtering Between Dates Page
Chapter 9-1 Understanding And Creating A Query Page
Chapter 9-2 Working With A Query And Changing The Query Design Page
Chapter 9-3 Applying Clearing And Saving A Query Page
Chapter 9-4 Running Querys From The Navigation Pane And Deleting A Query Page
Chapter 10-1 Creating A Basic Report Page
Chapter 10-2 Working With Existing Reports and Previewing And Printing A Report Page
Chapter 10-3 Changing The Report Layout Page
Chapter 10-4 Using The Report Wizard and Creating A Grouped Report Page
Chapter 10-5 Creating A Statistical Report and Working With Grouped Reports Page
Chapter 11-1 Creating A Basic Form A Split Form and Binding A Form To A Query Page
Chapter 11-2 Using The Form Wizard and Working With Existing Forms Page
Chapter 11-3 Editing And Deleting Records In A Form Page
Chapter 11-4 Deleting An Unwanted Form Page
Chapter 12-1 Assigning Default Values and Validating Numbers Page
Chapter 12-2 Validating Rules And Text Page
Chapter 12-3 Setting Required Fields and Working With Validation Page
Chapter 13-1 Chaging Column Widths and Formatting Cells In A Table Page
Chapter 13-2 Changing Fonts and Moving Columns In A Table Page
Chapter 13-3 Freezing Columns Hiding and Unhiding Columns In A Table Page
Chapter 14-1 Modifying A Saved Query Page
Chapter 14-2 Creating And Or Queries Page
Chapter 14-3 Querying Numeric Data and Querying Dates Page
Chapter 14-4 Using A Range Expression and Querying Opposite Values Page
Chapter 14-5 Moving Fields In A Query and Sorting Query Data Page
Chapter 14-6 Removing Fields From A Query and Querying Using Wildcards Page
Chapter 14-7 Querying With A Lookup Table and Sorting Query Data Numerically Page
Chapter 14-8 Displaying NULL Values and Querying For Uniqueness Page
Chapter 15-1 Creating A Parameter Query Page
Chapter 15-2 Displaying All Records Page
Chapter 15-3 Using Parameters To Display A Range Page
Chapter 15-4 Using Parameters In Expressions Page
Chapter 15-5 Using Parameters With Wildcards
Chapter 16-1 Creating A Calculated Field and Formatting Calculated Fields Page
Chapter 16-2 Summarising Data Using A Query and Changing The Grouping Page
Chapter 16-3 Calculating WIth Dates and Using Criteria In Calculations Page
Chapter 16-4 Concatenating String Fields Page
Chapter 17-1 Switching Between Form Views and Selecting Form Objects Page
Chapter 17-2 Working With A Control Stack and Changing Column Widths Page
Chapter 17-3 Moving Controls On A Form and Aligning Controls Page
Chapter 17-4 Changing Label Captions Page
Chapter 17-5 Adding An Unbound Control and Adding A Control Source Page
Chapter 17-6 Checking The Current Tab Order and Changing The Tab Order Page
Chapter 17-7 Inserting The Date Into The Form Header Page
Chapter 18-1 Creating A Multiple Item Form Page
Chapter 18-2 Typing Into A Form Layout and Disabling Fields Page
Chapter 18-3 DIY Sub Forms and Removing Sub Form Redundancy Page
Chapter 18-4 Splitting And Merging Layout Cells and Adding An Easy Lookup Field Page
Chapter 18-5 Adding Buttons To A Form and Adjusting Form Properties Page
Chapter 19-1 Creating Navigation Macros Page
Chapter 19-2 Accessing Event Macros Page
Chapter 19-3 Creating Unassigned Buttons Page
Chapter 19-4 Programming An Event and Running An Event Macro Page
Chapter 19-5 Modifying An Event Macro Page
Chapter 19-6 Setting Echo Off Page
Chapter 19-7 Adding A Close Button Page
Chapter 19-8 Creating A Search Macro and Running The Search Macro Page
Chapter 19-9 Naming A Macro And Referencing Macro Sheet Macros Page
Chapter 20-1 Creating A Simple And More Complex Navigation Form And Creating The Navigation Form Page Tabs
Chapter 20-2 Creating Subsidiary Forms And Adding Additional Subsidiary Pages
Chapter 20-3 Editing Page Tab Names And Applying A Theme
Chapter 20-4 Modifying Properties And Automatically Starting The Navigation Form
Microsoft Access Online Training utilises learning materials that are packed full of high quality content, step-by-step instructions with visuals and plenty of practice exercises offering exceptional value to the participant.
Prerequisites
Microsoft Access Introductory Online Training assumes little or no knowledge of  Microsoft Access.  It would be beneficial to have a general understanding of personal computers and the Windows operating system environment.
Customised Group Training for Microsoft Access 2010 to 2016 – We can include the following;
Pre Course Questionnaire (Suitable for group training sessions if required)
Training Needs Analysis for Microsoft Access Course
Tests available for download (Suitable for group training sessions if required)
Onsite
Use our computer training rooms venue in Perth CBD at no additional cost
Class sizes 2 to 24 attendees
Includes all resources pdf manual for each attendee or hard copy additional
Please email us for a comprehensive details and proposal on how we can make your next corporate training event a success info@appliededucation.edu.au
Course Options & CPD Hours
Options
Dates & Time
Includes
CPD Hours  
Price
Classroom
9am to 4pm
Visit Perth timetable
– Tuition
– Course manual (pdf or hard copy an additional $39)
– 12 months email support
– Refreshments & lunch
12
$599
Group Training
Times by request
Dates by request
– Options by request
– Customisation available
 12
Contact Us
Online Learning
Start anytime
– Online platform
– Course manual (Electronic copy)
– Training software
– 12 months email support
12
$149
The Microsoft Access training course in Perth awards a Certificate of Participation
All prices are GST Free unless specified
Register for a Microsoft Access Training Course in Perth
Microsoft Access
$149.00 – $599.00
Microsoft Access training course in Perth (2 days | version: 2013 & 2016)
Description
Microsoft Access training course in Perth or Online Learning (2 days | version: 2010, 2013 & 2016)
Additional information
| | |
| --- | --- |
| Date/Learning Method | Access 2016 Online Learning, 24 & 25 Oct 2017 |