Utilise the full features of Microsoft Word
Understand the full capabilities of Word with our Advanced Word online training course.
Designed for experienced Word users, learn to operate the software at an advanced level to create complex documents and incorporate automation of document procedures.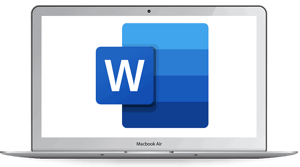 Certificate of completion

Instant access, start NOW!
Online Mircosoft Word Course Options
Microsoft 365 or 2016 Version
Pdf manual and resources
Follow along with the sample exercises provided
Instant Access
Word Introductory, Intermediate and Advanced
Get both 365 & 2016 versions
Pdf manual and resources
18 CPD hours
Instant access
Microsoft 10 Course Bundle
The Ultimate Microsoft Office Course Bundle
55% Saving off RRP of $1090
Over 50 hours on-demand tutorials
Detailed PDF training manuals
Excel, Word, PowerPoint, Project, Access & Outlook
Corporate Pack
20 User Access
Enrol staff into 20 online courses
Upskill your team to match your business needs
Courses in Excel, Word, PowerPoint, Project, Access & Outlook
Click here for more details
Instructor-demonstrated video tutorials
Pause, rewind and re-watch as many times as you need to assist in understanding the course material. Here's some sample videos:
Training manual and comprehensive resources included with Microsoft Word course
Microsoft Word 365 Advanced Online Training is a convenient, effective and affordable way to learn. You can complete the Microsoft Excel Introductory Online Training at your own pace and at your own leisure. Whether you're a beginner, an experienced user, or somewhere in between, you'll find valuable knowledge that can be accessed again and again at a time and pace that suits you.
The course includes online learning materials that can be accessed again and again. Packed full of high-quality content, step-by-step instructions with plenty of visuals and practice exercises, the course materials offer exceptional value to the participant, including:
Microsoft Word course manual
Handy Tips guide (key tips and tricks for using Word)
Quick Reference Guide
Exercise Files to practise with
Complete Microsoft Online Course Bundle - 10 Courses
55% Saving off RRP of $1090
Over 50 hours on-demand tutorials
Detailed training manuals e-book
Access anytime
Certificates of completion
All our Microsoft Online Learning - Excel, Word, PowerPoint, Project, Access & Outlook