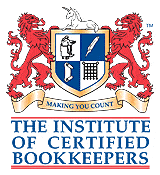 At Applied Education, our course content is developed in consultation with industry partners and professional bodies such as the Institute of Certified Bookkeepers.
As part of your enrolment in a Bookkeeping & Accounting Course such as the Certificate IV in Accounting and Bookkeeping, you will receive a complimentary student membership to the Institute of Certified Bookkeepers (ICB).
Please note that this complimentary membership offer can only be claimed once. 
"To provide bookkeepers with the co-operative forum to be the best they can be. We're about bookkeepers: Recognition & Education."
– ICB Vision
The ICB aims to bring certainty to the bookkeeper industry, and all involved and affected by it.
By setting standards for being a certified bookkeeper in the bookkeeping industry, they provide answers to major questions such as:
What does a certified bookkeeper do?
How skilled is this bookkeeper?
How do I prove my bookkeeping skills?
How do I improve my own bookkeeping skills?
How do I do bookkeeping better?
What are the benefits of being part of a bookkeeper professional association?
Institute of Certified Bookkeepers student membership includes:
Bookkeeper tools and resources
Website accessed resources for students
Newsletter for bookkeepers: Specifically designed to guide you in your bookkeeper world
Urgent relevant updates emailed to all members as they happen
Regional network meetings: Operating monthly with an increasing number of locations and systemised resources and content for discussion
Professional indemnity insurance designed for bookkeepers (prices relevant to the bookkeeper business)
Bookkeeping knowledge-based assessments
Bookkeeper task-based competency assessments
Special skill self assessment: Online assessments, to test what you do and do not know
Applied Education encourages students to complete their ICB membership after they enrol with Applied Education using the enrolment link and registration steps provided on the student platform.
The Institute of Certified Bookkeepers is one of the best resources available for bookkeepers so spend some time exploring their website, reading their past newsletters, and ICB-member only resources and forms.
Accreditation & Industry Partners
As a Registered Training Organisation (ID 52240), we comply with the government's strict quality and consistency standards. We conduct regular audits to ensure we keep this accreditation and deliver the level of training you deserve.
Nationally Recognised Training - Our NRT courses are recognised in all states and territories of Australia.