At any age you can be your own boss and start up a small business. Small business owners have the flexibility to create their own work schedule and have control over the direction of their business. This gives them to opportunity to achieve financial success and create a long-term income stream. Moreover, running a small business can help drive innovation, personal growth, provide employment opportunities and contribute to local communities.
There are many ways to get started, though a common mistake is to drop everything and start your business full-time which is not always the best approach. Kicking it off slowly as a "side-hustle" or a hobby business will be more manageable and can help avoid cash flow issues and stress.
Starting a small business takes hard work, dedication, and a willingness to adapt and grow. However, with the right planning and execution, you can turn your passion or expertise into a successful business.
Content
What is a small business?
A small business can be defined as an independently owned and operated company that typically has a small number of employees and limited revenue. These businesses are typically owned and managed by a single person or a small group of individuals who have a hands-on approach in running the company. Small businesses may operate in a specific industry or niche, offering unique products or services to a targeted customer base.
While small businesses often face unique challenges, such as limited resources and intense competition, they also have the advantage of being able to quickly adapt to changes in the market. One of the best ways to kick-start or improve the management of your small business is through taking the AE617 Operate a Small Business Skill Set
What are the best small business ideas in Australia?
The growth of small businesses in Australia has been positive in recent years. According to the Australian Bureau of Statistics, small businesses make up over 97% of all businesses in Australia and employ nearly 44% of the country's private sector workforce. Listed below are the top small business ideas in Australia.
Eco-friendly products and services
Health and wellness products and services
Online education and tutoring services
E-commerce and home delivery services
Virtual event planning and coordination
Home cleaning and organization services
Personal training and fitness coaching
Pet care services
Graphic design and website development services
Renewable energy solutions and products
Note that the success of your business idea will depend on various factors such as local market demand, competition, and current economic conditions. Make sure to thoroughly research and validate your business idea before starting any venture.
What are some tips in starting up your own small business?
Starting a small business can be a challenging but rewarding experience. Here are some tips to help you get started:
Conduct thorough market research to validate your business idea and assess demand for your products or services.
Develop a solid business plan including a detailed budget and financial projections.
Connect with other business owners for support and advice.
Seek guidance from a lawyer or accountant to ensure that you understand the legal and financial requirements for starting a business.
Utilize technology and digital tools to streamline processes.
Maximize your social media platforms to reach customers.
Offer excellent customer service to build a strong reputation and gain repeat business.
Continuously analyze and assess the success of your business, and make adjustments as necessary.
Surround yourself with a supportive team, including employees, mentors, and advisors.
Stay organized and keep accurate records to ensure the smooth operation of your business.
Have a growth-oriented mindset, and be open to new opportunities and pivoting your business as necessary.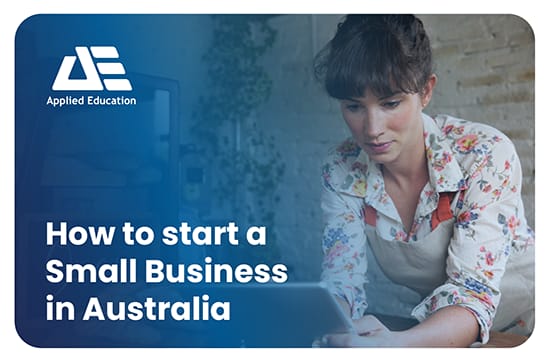 At Applied Education, we have trained over 40,000 students since 1999. As experts in accounting, bookkeeping and business, we can prepare you with the skills and knowledge to get you job-ready or to improve how you operate a business of your own.
The AE617 Operating a Small Business Course is a comprehensive program that covers a wide range of topics, including market research, financial management, marketing, and customer service.
Turn your ideas into reality and become a successful business owner today.