Content
Xero is a cloud-based accounting and payroll software that is used by small businesses around the world. It offers a range of features and tools that make it easy for businesses to track their finances, pay their employees, and file their taxes. If you own or manage a small business, here are several reasons why you should consider learning Xero:
Easy to use
One of the biggest benefits of Xero is its user-friendly interface. It has a clean and intuitive design that makes it easy for you to navigate and perform various tasks. Whether you're an experienced accountant or a novice, you should be able to pick up Xero quickly and start using it effectively.
Time-saving
Xero automates many of the tasks that are associated with accounting and payroll, such as generating invoices, tracking expenses, and calculating payroll taxes. This can save you a lot of time and effort, allowing you to focus on other aspects of your business. For example, you might be able to spend less time on paperwork and more time on activities that generate revenue, such as marketing and sales.
Learning Xero can be a valuable investment for any small business owner or manager. You can start learning with our Xero Accounting and Payroll course to begin your career.
Accurate
Xero is designed to help you avoid common mistakes and errors that can occur when you're managing your finances manually. For example, it can automatically check for errors in your data and alert you if it finds any. This helps you maintain accurate financial records and avoid costly mistakes.
Secure
Xero uses bank-level security measures to protect your financial information from being accessed by unauthorized parties. This means you can have peace of mind knowing that your sensitive data is safe and secure. You can also set up two-factor authentication to add an extra layer of security to your account.
Collaborative
Xero allows you to collaborate with your team and advisors in real-time. You can invite your accountant, bookkeeper, or other team members to access your account and work on it together. This can be especially useful if you have a distributed team or you work with freelancers.
Accessible
Xero is a cloud-based software, which means you can access it from any device with an internet connection. You don't have to worry about installing any software or maintaining hardware. This makes it easy for you to manage your finances on the go and respond to any issues that might arise.
Integrative
Xero integrates with a range of other tools and platforms, including banks, payment processors, and invoicing tools. This allows you to streamline your workflows and avoid the need to manually import or export data between different systems.
Customizable
Xero allows you to customize your account to suit your specific needs. For example, you can create custom invoices and reports, set up automatic notifications, and customize your dashboard. This can help you tailor the software to your business and make it more efficient.
Affordable
Xero offers a range of pricing plans to suit different business needs, and many of its features are available for free. This makes it an affordable solution for businesses of all sizes. You can choose the plan that best fits your budget and scale up or down as your business grows.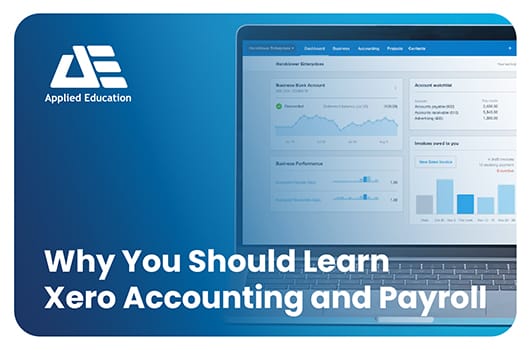 In conclusion, not only does it make managing your finances and payroll easier, but it also helps you save time, avoid mistakes, and protect your sensitive data. Whether you're a freelancer, a startup, or a growing business, Xero has the tools you need to succeed.
At Applied Education we cover everything from beginning your career in Xero Accounting and Payroll; learning Accounts Payable and Accounts Receivable Using Xero; through to acquiring an Advanced Certification.
If you are looking to re-skill or up-skill but unsure of which course best suits you, get in touch with one of our consultants today and we will endeavour to help you.