If you are wondering what are the advantages and disadvantages of salary packaging - salary packaging is a voluntary choice for employees and employers. The decision to salary package ultimately rests with each individual employee and it also also up to the employer if they want to offer packaging.
Table of Contents
Salary packaging is voluntary and most companies have eligibility criteria for packaging such as:
be covered by an award or enterprise bargaining agreement that allow employees to salary package.
have an employment contract for 12 months or more.
have no less than 6 months to the end of their contract at the time of entering into salary packaging.
There are both benefits and downsides to salary packaging in Australia.
Below are the advantages and disadvantages of salary packaging in pre-tax dollars. What is it your best option?
What are the Advantages of Salary Packaging?
Many people are quick to point out the advantages of salary packaging, ignoring the disadvantages and potential pitfalls and risks.
Salary packaging can benefit both the employer and employee, some of the advantages are:
It offers the employee choice to choose how they receive their income.
Integrates personal and financial planning; for example many financial advisers recommend salary sacrificing into superannuation as a way to reduce your tax while increasing your retirement income.
Employees get a pay rise with no cost to the employer. For example, if the employee was to purchase a car out of their after-tax pay, sometimes it can be more beneficial to salary packaging the car instead and end up better off.
Employers are able to compete for the best staff by offering flexible remuneration via salary packaging.
Employment on-costs such as payroll tax, workers compensation and superannuation guarantee charge can sometimes be reduced. Saving the employer money!
It is important to recognise that each person is an individual and whilst the standard salary arrangements might suit some employees they will not suit all employees. Packaging allows the employers to provide flexibility for employees with regards to their pay.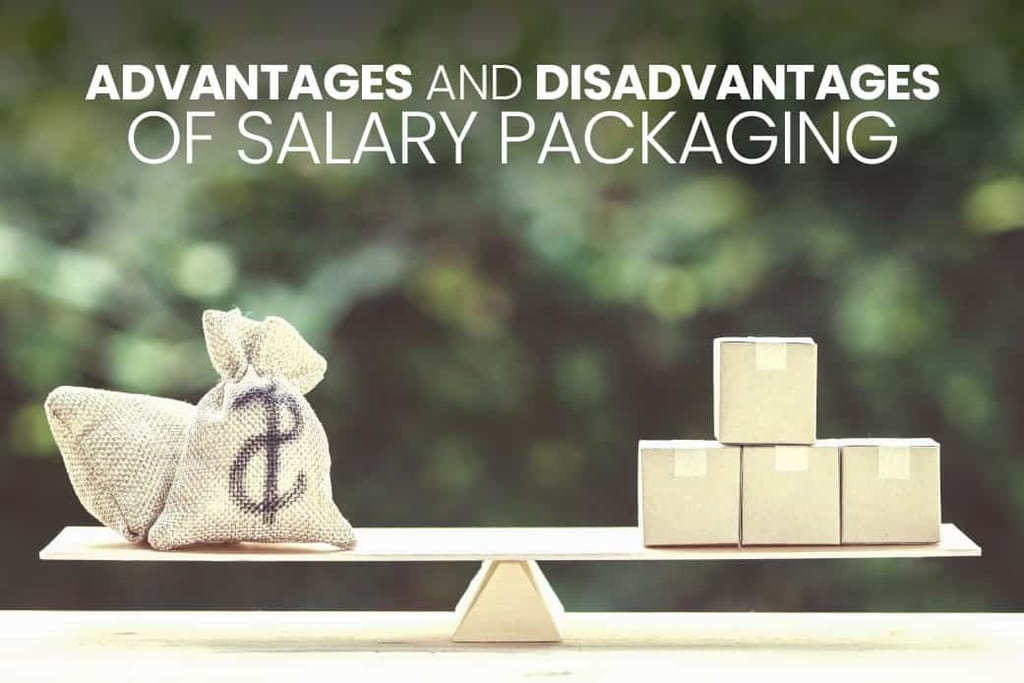 What are the Disadvantages of Salary Packaging?
Note, this list is longer than the advantages! Be careful if you decide to salary package as there are lots of pitfalls to watch out for!
Sometimes the car dealer or salary packaging provider is the only one better off. For example, is your 5 year old car really in need of replacing just so you can save tax?
One big disadvantage of packaging is that there are significant administration costs and other costs associated with the maintenance of the package. Is your payroll system and staff adequately trained in salary packaging and FBT?
If not, they should do our salary packaging course or get a Nationally Recognised Qualification in Payroll and Salary Packaging.
Some disadvantages of salary packaging are:
Developing the list of items that can be salary packaged and communicating this to staff.
Negotiation of the breakup of the salary package when an employee leaves, especially if there are wages or payments outstanding.
Record keeping administration - payroll administration is already a minefield or risks, from a business perspective is it worth adding more complexity?
Preparation of the FBT return for items subject to FBT that have been salary packaged by an employee. What needs to go on the employees payment summary as grossed up FBT?
Of course, there is little point providing benefits to employees who have no interest in a packaged item.
Such as a laptop computer to an employee who already has one or needs one for their job. Why should an employee pay for this laptop via salary sacrifice?
In many cases the cost of administering the package can outweigh the benefit to the employee. For that reason many employers limit their packaging programs.
Salary packaging may sometimes affect your super and government benefits. Always understand the implications before agreeing to an arrangement with an employer.
We make a sincere effort to ensure the accuracy of the material described the advantages and disadvantages of salary packaging herein; however, Applied Education makes no warranty, express or implied, with respect to the quality, correctness, currentness, accuracy, or freedom from error of this document or the products it describes. Applied Education makes no representation or warranty with respect to the contents hereof and specifically disclaims any implied warranties of fitness or any particular purpose. Applied Education disclaims any liability for any direct, indirect, incidental, consequential, special, or exemplary damages resulting from the use of the information in this document or from the use of any products described in this document. Mention of the product does not constitute an endorsement of that product by Applied Education. Data used in examples and sample data files are intended to be fictional. Any resemblance to real persons or companies is entirely coincidental.