Part two of our EOFY tips and reminders from Brett Thornett, CPA and Director at Applied Education.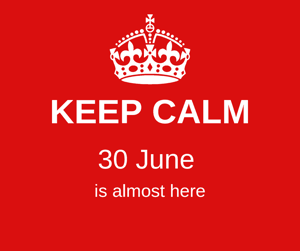 SGC Contributions: You can claim a tax deduction for your June quarter contributions if they are received by your funds by the 30th of June. Your clearing house will send you a notification of your payment deadline.
Deductible expenses: If appropriate, bring forward deductible operating expenses, for example insurance and advertising costs.
Prepay expenses such as interest. Although this must be paid before the 30th of June for services rendered within 12 months.
Write Off Bad Debts: Where you consider the amounts are irrecoverable you can claim a deduction if they are written off before the 30th of June.
Donate to your favourite charity: Donations to Deductible Gift Recipients are deductible if paid prior to 30 June.
Missed part one? Read our first blog with EOFY reminders here
And finally, good luck and keep calm.