Cloud accounting software is rapidly becoming an essential item to have in order to run and grow your business.
MYOB Essentials Table of Contents
MYOB Essentials Tips and Tricks
Most complete accounting systems have streamlined their operations and the MYOB, Essential accounting software package, is one such platform. 
Loaded with hundreds of features that make most accounting tasks easy, straightforward and compliant, here are some features that are broken down in the infographic below.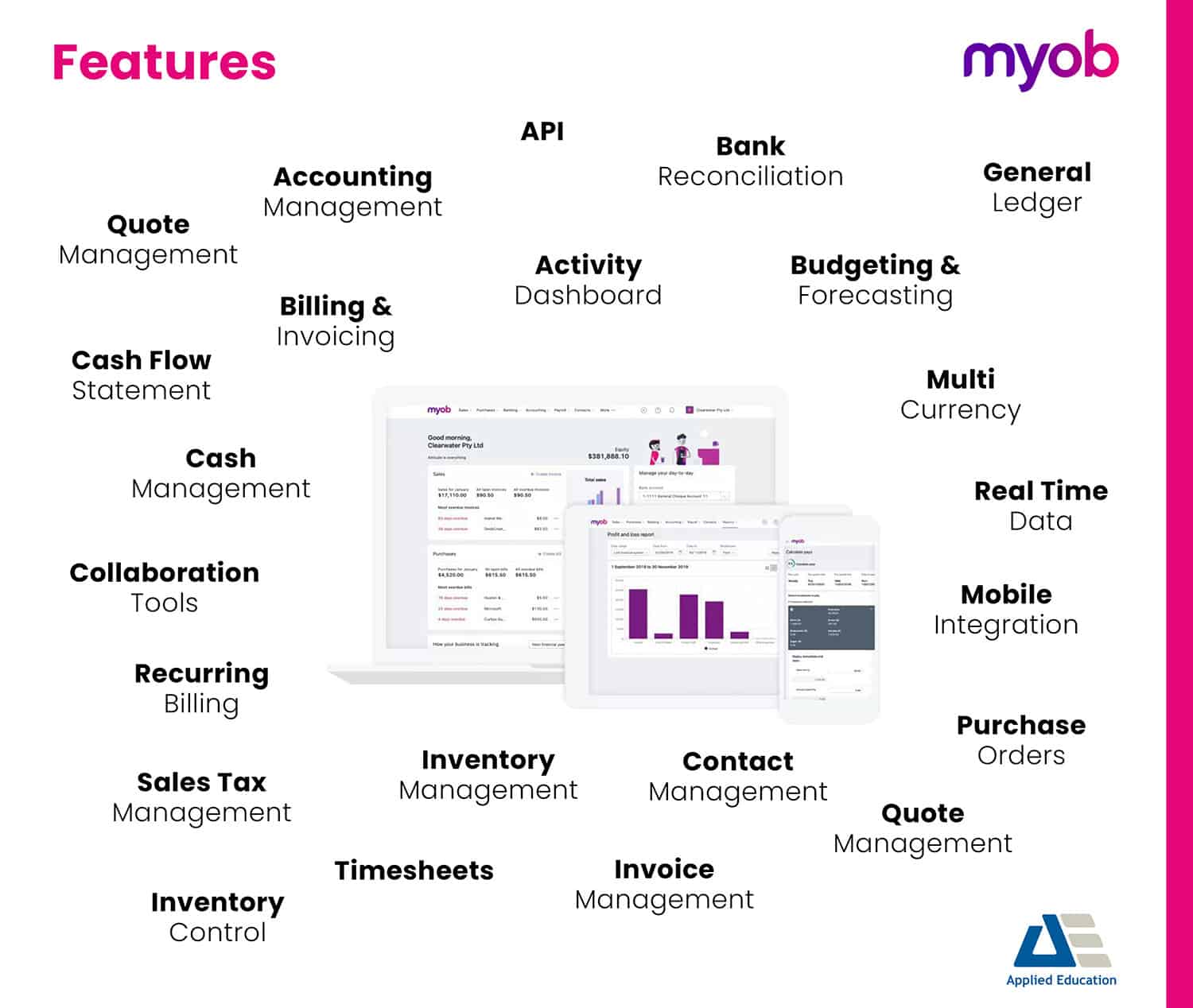 How Much is MYOB Essentials?
You will have 1 month access to a FREE trial without the need for using your credit card by registering online with MYOB. MYOB Essentials Online Mobile Apps is also available to download for free. MYOB Mobile App supports most new web browsers, iPhone app(iOS) platforms and Android.
MYOB Essentials also supports 300+ seamless integrations with many CRM and ERP platforms such as HR Central, Neto, FreshBooks, simPRO, MailChimp, Total Synergy, Salesforce and many more.
Pricing can start from A$5.00/month to anywhere above A$30.00/month depending on features, number of employees and discount offered for each monthly package. The user base of MYOB is solid. 
58% of the users are small businesses, 35% are medium businesses & 8% belong to larger enterprise businesses.
(MYOB Essentials Tips) Did You Know: Even though you will find a majority of users are from Australia, MYOB also has a substantial following and user base in New Zealand, UAE, and Philippines.
Where to Begin Your MYOB Essentials Journey?
The following is a list of standard tasks you will normally need to complete at the end of each month or quarterly period. 
For a more comprehensive MYOB Essentials Online course to attain a strong command of the MYOB accounting software. Check out one of our many online training courses. "MYOB Accounting software training bundles"
In this MYOB essentials tips, we will be focussing on the month end tasks in the "lock period" feature.
MYOB Essentials Tips #1:

End of Period Tasks
Depending on what industry a business is in, some tasks may vary or in some cases not apply when it comes current company processes. Seek advice from an accounting advisor if you require help with your end of period tasks.
Upon the completion of your month end tasks, you should be able to lock the period using the "Lock Periods" feature. 
Doing so will prevent anyone from involuntarily making an entry in a period in which you don't want new entries.
MYOB Essentials Tips #2:

Reconcile Transactions
Reconciling ensures all MYOB Essentials bank records match the records kept by your bank. Doing this on a daily basis can help to keep your business records accurate and save of time at the end of the month. 
At the end of the month, a comparison will have to be made with each business account transactions to see if there are any that are still unmatched. Cross check any transactions with online bank statements.
MYOB Essentials Tips #3:

Lodge Activity Statements
MYOB Essentials can help you lodge activity statements by providing information about business GST's over a time period. There are several different GST reports available to help you prepare your BAS (Australia only) or your GST return
Once you've made sure your GST settings are correct, head over to the Business reports section in MYOB Essentials to get started.
MYOB Essentials Tips #4:

Lock Periods
After all month-end tasks has been completed, the period is locked and MYOB is ready to start the next one. By locking the period, this feature prevents any records from inadvertently being created, edited or deleted.
If any modification is needed to a locked period, you can unlock the period at any time.
MYOB Essentials Tips #5:

How to Unlock and Lock a Period in MYOB Essentials?
Once you have completed all your month end tasks such as bank reconciliations, it is recommended that users do not change transactions in that period. This is particularly important once year end and BAS lodgements are done.
The period should be locked to avoid accidental changes and to get ready to begin the next period.
This also assists in avoiding any reporting errors in your Business Activity Statement (BAS).
Should adjustments need to be carried out, they should be completed in the current period, not in the prior reported period.
1. From the Main Menu Bar, select Company and then Business Details.
2. Scroll down to the Lock Date
3. Tick the Lock box and enter the closing Date to which the lock applies.
4. Click Save.

Click on the video above to view our MYOB Essentials Tips videos.
How Can Applied Education Help You?
At Applied Education, we understand that it is essential to remain relevant in the workforce during this COVID crisis, to ensure you stay connected and updated with industry-standard certifications and skills, consider following us on social media.
If you are looking to re-skill or up-skill but unsure of which course best suits you, get in touch with one of our consultants today and we will endeavour to help you.