For the uninitiated, there is a perception that working as a bookkeeper is a very homogenous role with few options in terms of roles and career paths. The reality could not be further from the truth. If you take a look at various job search sites you will find that there are many different types of bookkeeping roles being advertised. There are a variety of roles and functions within bookkeeping, making this a very dynamic and flexible career choice. Some of the most common roles founds within the bookkeeping profession include;
Bookkeeping Practice
BAS Agent
Business Administration
Business Advisory Services
Adjunct to an Accounting Practice
Accounts Management
Trust Administration
Not for Profit Administration
There is also a growing demand by consumers of financial services for a one stop financial shop. Astute financial services providers are adopting a 'trinity' of financial services – Bookkeeping, Accounting and Financial Planning. Each requires a distinct set of competencies that most businesses will require.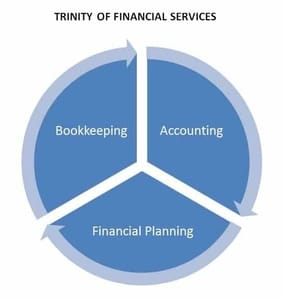 You can therefore be confident that Bookkeeping is not only a great career choice by way of providing many career choices it is also seen as an essential part of any businesses' financial service needs. So as long as we have business there will always be a need for bookkeepers.
Click here to find out more about our bookkeeping and accounting courses.