It is well understood that that every person has a preferred learning style. The core learning styles are
• Auditory – learn through listening and reading
• Visual – learn through graphical and pictorial depictions
• Kinaesthetic – learn through doing the task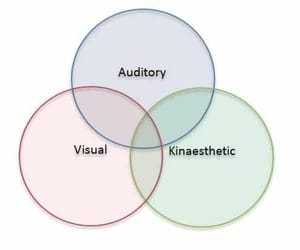 Source – Fleming's (2001) Visual Auditory Kinesthetic (VAK) model.
Everyone has a mix of learning styles with some having a preference for a specific style of learning. Studies have shown that learning that makes use of all three styles provides the best opportunity for development as it allows people to develop abilities in less dominant styles as well as further develop styles already use well.
It is for this reason that workshops are one of the most effective means of learning. They enable participants to learn through all three styles via listening to the presenter (auditory), viewing material in a presentation (Visual) and also undertaking practical exercises. (kinaesthetic)
Upcoming Workshop: Business Structures – Consideration for Bookkeepers
Applied Education and Institute of Certified Bookkeepers (ICB) will be holding a series of free workshops in 2015 for Applied Education Students who also have ICB membership.
This informative workshop will provide an understanding of how business structures impact on the accounting treatment of various transactions.
It is very important for bookkeepers to have an understanding of various business structures, particularly when coding items. It is not uncommon for an identical item to be coded differently depending on the type of business structure.
The business structures that will be discussed include;
• Sole Traders
• Partnerships
• Trusts
• Private Companies
Date: 04 Feb 2015
Time: 06:00 PM – 7:00 PM
Price: Free for ICB Members, $55.00
Venue: WA Workshop Series, Applied Education, Level 1, 524 Hay Street, Perth, Western Australia, 6000
Light refreshments will be provided.
To secure your place please register below.
[twg_gpo_button]