Embarking on a new career path when you are either just starting out in working life or changing careers, it can be quite a challenge to gain the knowledge and skills needed to become proficient in core tasks. This can cause a great deal of distress as a person grapples with trying to absorb a great deal of information in a short period of time on the job. Learning how to do a new job is often unstructured and results in inefficient use of time and output.
Learning a new career such as bookkeeping or accounting should be ideally structured through a combination of learning methods.
On The Job Training
Sometimes called direct instruction, on the job training takes place in a normal working situation where someone who knows how to do a task shows another how to perform it. This guidance is often given by a mentor whose role is to coach the trainee.
Course Work
Formal study that provides theory and skills for application in a working environment. The course work should be current and relevant for the needs of the workplace.
Industry Networks
Obtain exposure to broader industry information, trends and build networks with like-minded professionals. Examples of such organisations include the Institute of Certified Bookkeepers or Institute of Public Accountants
TRAINEESHIP
A traineeship with Applied Education is an ideal means of embarking on a new career path in bookkeeping or accounting as it allows access to all three learning methods. With a traineeship you can learn new skills and get a nationally recognised qualification while working. To be a trainee you must firstly be employed and discuss the option of a traineeship with your employer. Eligibility for a traineeship is based on factors such as how long you've been employed with the company and previous qualifications. Click here for our traineeship guidelines
INDUSTRY NETWORKS
When enrolling as a trainee with Applied Education, students are also offered free membership with the Institute of Certified Bookkeepers (ICB). Membership with ICB allows the opportunity to broaden their industry knowledge and network with other professionals in the field of bookkeeping and accounting.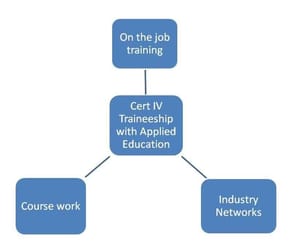 WHY NOT?
If you are an employer that would like to develop your staff or someone who would like to undertake a structured program to achieve career goals in bookkeeping and accounting then please contact us at Applied Education for further information on a traineeship. Why not give us a call or click here for further information. It may be just what you are looking for to give you a great start to your new career in bookkeeping or accounting.
Darren Roxburgh
Applied Education