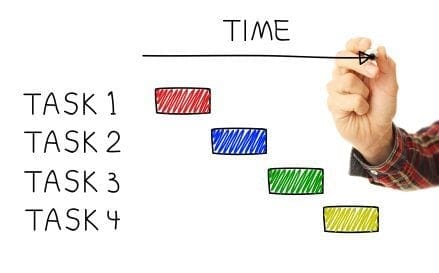 Picture this: you're a project manager, and you've finally convinced management of the need for specialist project management software, as well as training for staff in using it effectively. Management have agreed to implement software (such as Microsoft Project, for example) and to arrange some staff training. Sounds great, doesn't it?
Unfortunately, after jumping through all the hoops, you're left with an outcome that is less than realistic and the end result is far from your expectations.
So what went wrong, and how can this situation be avoided?
Below are some of the most common issues we see when contacted about our Microsoft Project or project management training courses.
1) Limited budget

Issue: The budget only allows for one or two days of training, and management expect all staff to be pushed through the course in this short timeframe.
Consideration: If you have a limited training budget, decide which of your staff would benefit the most from the training, and select a few key staff members to undertake the course. This allows those doing the course to gain a more comprehensive and thorough training experience.
2) Staff availability
Issue: Staff are unavailable on the day the training is scheduled, or they simply fail to turn up.
Consideration: Consult with staff regarding their availability prior to scheduling the training course, and communicate expectations around their attendance. Send a calendar appointment to any staff members who are expected to attend, with detailed information about the location, time and duration of the course.
3) Software problems
Issue: The required software, e.g. Microsoft Project, isn't installed on staff computers as management have not committed to buying everyone a licence for the software, or – even worse – staff are all using different versions of the software.
Consideration: Obtain a commitment from management for a specified number of licences before organising any training. Communicate the importance of version control to ensure all staff have the current version, or at least the same version, of the required software.
4) Varying levels of ability
Issue: Large groups of staff with varying skill levels are all grouped in the same training session, resulting in some staff feeling their attendance is unnecessary or a 'waste of their time', while others may struggle to keep up with the concepts being taught and ultimately will not benefit from the course.
Consideration: Understand the existing skill levels present within your staff, and arrange separate training sessions according to ability if there is a wide variance. This will ensure the most effective use of each training session, and will minimise time wasted or ill-used.
5) No prior needs analysis completed
Issue: The needs that the training is intended to meet have not been identified, providing no real direction for the training or any way to assess its effectiveness afterwards.
Consideration: Most software programs can perform a wide range of functions beyond the specific needs of an organisation. Determine the specific functions you actually require the software for, and focus on learning those areas in-depth, rather than a shallow overview of every function available.
6) No plans for future use or implementation
Issue: No 'templates' have been created or any thought into how the company plans to implement the software across the organisation.
Consideration: Think about whether there is a real or current scenario that you could apply the training to – how would the software solve the problem? Use this as the basis for the training session, allowing you to achieve a practical, actionable solution to take away from the course. Then consider how this can be transferred to other scenarios within the business and create a plan to implement the software.
As training providers, we see these issues arise all too often. Before proceeding with your next software rollout or upgrade, take the time to consider some of these issues and how to effectively engage your staff. Take a realistic approach to implementing these tools, involve all stakeholders and ensure everyone is on board with the strategy to achieve the best possible outcome.