Payroll Update: Minimum wage to increase by 2.5%
Following the FairWork Ombudsman's annual wage review, there is a 2.5% increase to minimum wages this year. This increase applies to anyone earning a minimum award wage or the national minimum wage.
This blog covers the three staged wage increase, how to stay on top of payroll updates and the latest in payroll qualifications.
When will the minimum wage increase commence?
The minimum wage increase is happening over three stages, depending on the Modern Award, starting on 1 July 2021.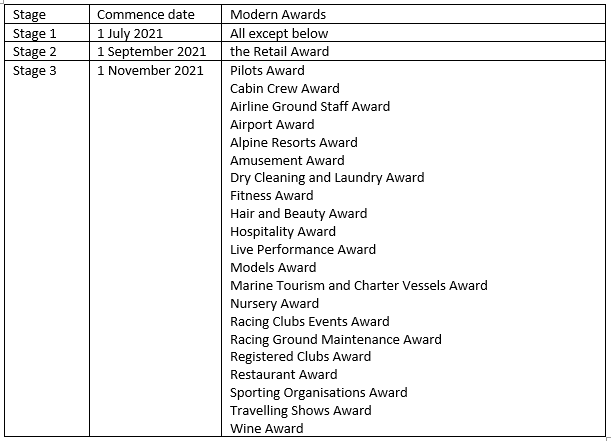 To find out if the minimum wage increase applies to you, go to fairwork.gov.au - find my award https://www.fairwork.gov.au/awards-and-agreements/awards/find-my-award/
CPE and Payroll Updates
Bookkeepers and HR staff who work in payroll, understand that payroll has become a specialised skill within accounting and finance. Expert knowledge and experience are needed to implement regular legislation updates, maintain compliant records, and process day-to-day payroll tasks.
The legal obligations around payroll are often complex, changing and variable from state to state. It is essential today that payroll staff have the required training to support industry needs.
You can join our CPE Club for BAS agents and bookkeepers with regular webinars on current payroll and bookkeeping issues to learn more about this and other payroll updates. Our CPE club ensures that BAS agents meet their CPE requirements with the Tax Practitioners Board.
Payroll Qualifications and Further Education
Applied Education are the experts in Payroll courses and have been successfully helping people from all levels of payroll experience understand financial obligations. From Payroll One Day courses to the Diploma of Payroll Services. Applied Education specialises in Australian Payroll courses.
To learn more about our wide range of Australian payroll courses, don't hesitate to contact us now. Our helpful team will help you choose which pathway is right for you as you take this exciting step into a prosperous future.
Enjoy this topic?
If you are looking to re-skill or up-skill but unsure of which course best suits you, get in touch with one of our consultants today and we will endeavour to help you.