How do I start a career in accounting?
So you have an analytical mind, are organised, are attentive to detail, love working with people and numbers, and would like to know how to become an accounting professional.
As with any career, there are many pathway options to choose from depending on your budget, time available and your career destination.
In this blog, we outline several options when choosing a pathway for your accounting career plan.
Pathways to a Career in Accounting
We recommend that all our students assess how much study time they will have with family and work commitments. Your goal should be an achievable success!
One of the advantages of studying vocational courses, as opposed to university, is that you can achieve nationally-recognised qualifications in shorter and cheaper timeframes. You can then add to these qualifications to progress your career at a pace that suits you and your circumstances.
Step 1: An excellent starting place, FNS40217 Certificate IV in Accounting and Bookkeeping
This Certificate IV is the minimum qualification for a registered BAS agent or bookkeeper. It is a comprehensive course that will provide you with the knowledge and skills needed to conduct daily bookkeeping, payroll and accounting tasks.
The course is nationally recognised and approved by the Tax Practitioners Board (TPB). Once you have achieved the Certificate IV, you're eligible to work in a variety of roles including:
Registered BAS Agent
Company Bookkeeper
Freelance Bookkeeper
Small Business Owner
Finance Manager
Payroll Officer
Accounts Receivable and Accounting Payable Officer
Bank Officer
Settlement Clerk
Accounts Financial Officer
Step 2: The Diploma of Accounting and beyond
So you know and love this industry, and you want to advance your career as an accounting professional with a Diploma or Advanced Diploma.
The Diploma of Accounting – FNS50217, is the minimum qualification to become a registered tax agent and the next step in your career.
The Diploma is designed for those with existing knowledge and qualification in bookkeeping, and there are entry requirements for this course, either a Certificate IV in accounting and/or bookkeeping or the Accounting Principles Skill Set.
If you don't have a prior qualification and wish to study the Diploma, we recommend you study the Accounting Principles Skill Set. This nationally recognised course provides essential knowledge in accounting practices and direct entry to the Diploma of Accounting.
Once you have with the appropriate prior qualification, you can enrol in the Diploma of Accounting. The Diploma is ideal for those wanting to work as a senior bookkeeper or accountant or choose the Diploma of Accounting + Tax if becoming a tax agent is your career plan. With the Diploma of Accounting, you can work as:
Bookkeeper
Tax Agent
Finance Manager
Payroll Officer
Accountant
Auditor
Tax Specialist
Step 3: Your pathway to an Advanced Diploma
The Advanced Diploma of Accounting – FNS60217, the highest vocational qualification before a university degree, is designed for senior accounting roles and professionals, including managers and analysts.
At this level, students are expected to apply theoretical and technical skills in a range of situations. This qualification also meets the education requirements to become a registered tax agent in Australia.
The entry requirements for this course are either the Diploma of Accounting or both the Accounting and Advance Accounting Principles Skill Sets. Careers with the Advanced Diploma of Accounting typically include:
Tax Agent
Senior Accountants
Auditor
Tax Specialist
Commercial Accountant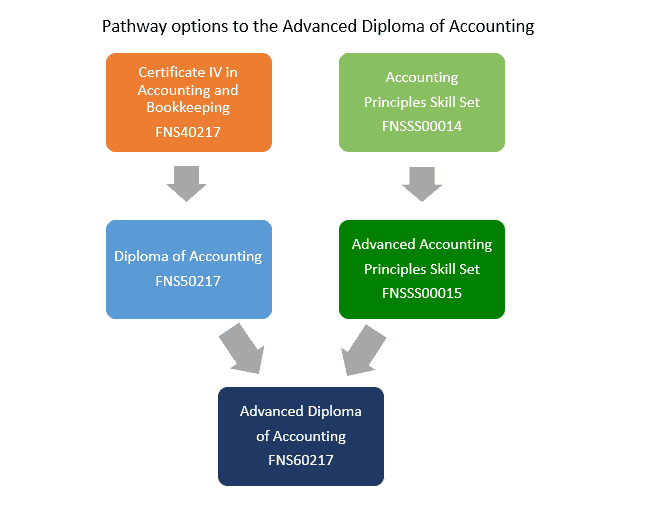 Congratulations you've choosing to work in a growing industry!
Accounting jobs are projected to increase by 9.7 % by 2024. (ref: ASIC National Industry Insights), it is time to enrol in your course of choice.
Still unsure and want to understand the differences between accounting and bookkeeping, don't hesitate to contact us now. Our helpful team will help you choose which course is right for you as you take this exciting step into a prosperous future.
Get in touch with one of our consultants today and we will endeavour to help you.